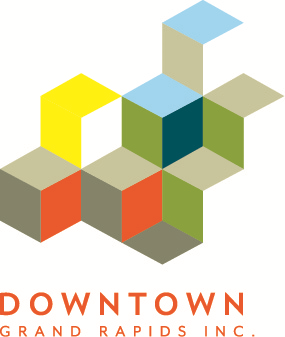 Managing Director of Planning and Design
The mission of Downtown Grand Rapids, Inc. is to accelerate Downtown GR's transition to a best-in-class American city. While a small, yet mighty organization, our growing team works hard with a wide array of community partners to build an increasingly vibrant downtown with great recreational experiences, a high quality of life for people from all walks of life and a strong inclusive economy. You may be familiar with some of our work:
The Van Andel Arena, Downtown Market and DeVos Place Convention Center – We helped build the facilities and accelerate the revitalization of Downtown.
Movies in the Park? Yep. That's us. We organized 40+ events in 2016 and MITP is the premier outdoor film series in west Michigan.
GR Forward – DGRI and partners led the development of this community plan and investment strategy to transform the Grand River into a distinct asset and guide the next generation of growth in Downtown Grand Rapids. Now we're busy making the vision a reality with the Grand River rapid restoration and Calder Plaza revitalization projects on the horizon.
With all of these exciting achievements and even more impactful projects on the horizon, DGRI is in search of a Managing Director of Planning and Design to manage and facilitate the execution of the GR Forward plan and the urban planning efforts of the City of Grand Rapids. Reporting to the CEO, the Managing Director of Planning and Design will have direct impact on neighborhood revitalization, urban design, downtown safety and beautification, and transportation planning in our growing, vibrant downtown.
Our ideal candidate will:
Collaborate with citizen Alliances on projects and programs related to economic development, infrastructure improvements, real estate development and urban planning. Work in partnership with the development community and the public regarding current and proposed private and public planning, infrastructure, parks and open space development.
Spearhead the design of key projects to advance the implementation of the Downtown Master Plan, GR Forward.
Guide developers through the development/redevelopment process and oversee the development of plans for capital projects and ensure construction timelines and budgets are being met.
Showcase a mastery of urban planning processes, including creating Request for Proposals (RFPs), convening steering committees, scheduling and leading public engagement activities and drafting and editing content of planning documents.
Create and deliver engaging presentations to the DGRI board of directors, the DDA, external commissions and community organizations. Regular attendance at evening meetings is expected.
Utilize refined project management skills including accuracy, budgeting, multi-tasking, follow up, attention to detail, and a focus on key deliverables to effectively plan and manage projects and programs of DGRI.
Our ideal candidate will have these credentials:
Bachelor's degree in business management, public administration, planning, landscape architecture, or related field. A Master's degree and AICP/ASLA/AIA certifications preferred.
Minimum 5-8 years of experience of increasing leadership in at least one of the following areas:

Planning / Redevelopment
Economic / Community Development
Architecture / Landscape Architecture / Urban Design

Demonstrated passion for city building and downtown revitalization. Experience designing cohesive public and street space, specifically in understanding project feasibility, cost-effectiveness and regulatory compliance.
Exemplary relationship-building skills to foster trust and collaborate with community members, public agencies and private organizations to catalyze development and investment in Downtown Grand Rapids.
Detailed knowledge of applicable city codes and ordinances and state and federal law to guide a team through the development process.
Knowledge of and experience with tax increment finance tools, state grants, and associated programs to contribute to the continued revitalization of Downtown Grand Rapids.
Here's what we're offering the right candidate:
An opportunity to develop things that matter in our city! You'll have exposure to exciting events, projects and developments and help to re-define our skyline.
A fun and flexible culture. Our diverse team works hard and has a good time doing it.
Competitive hourly wage
Medical & dental Insurance
Life insurance
Short & long term disability insurance
401(k) retirement plan with company match
Gym membership discounts and other wellness initiatives
Paid Time Off
Opportunities to grow and develop your career
If this sounds like the perfect fit for you, we encourage you to apply online today! To read more about the work we're doing visit us at http://downtowngr.org/our-work/projects/gr-forward. Please, no calls or emails.
Equal Opportunity Employer